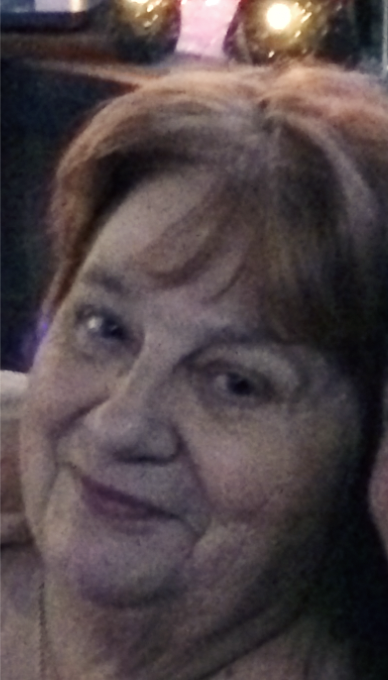 Memorial Visitation
4:00 pm - 8:00 pm
Friday, February 24, 2023
Dangler Lewis & Carey Funeral Home
312 W Main Street
Boonton, New Jersey, United States
(973) 334-0842
Funeral Mass
11:00 am
Saturday, February 25, 2023
.Our Lady of Mt. Carmel
910 Birch Street
Boonton, New Jersey, United States
Burial of Cremains
St. Mary's Cemetery
Wootton Street
Boonton, New Jersey, United States


Obituary of Anna Marie Kelly
Please share a memory of Anna Marie to include in a keepsake book for family and friends.
Obituary Anna Marie Kelly, Boonton, NJ Age 79
Anna Marie Kelly of Boonton, NJ, passed away in the presence of her immediate family on Thursday Feb. 16, 2023 at Fallsview Nursing Home. Although she was living with metastatic breast cancer over the past 3 years, she always brightened up everyone's day with warm conversations and creative crafts with the caring staff and her family and friends.
She was born at All Souls Hospital in Morristown, NJ as Anna Marie Beradino on March 25, 1943. Her father Joseph Beradino made the ultimate sacrifice and was killed in World War II when Anna Marie was only 2 years old. She moved to West Virginia to live with her mother, Mary Booth and her loving grandparents, Mommy and Poppi Martin, emigrants from Italy and her Aunt Dee Dee and Uncle Frank. She received unconditional love in West Virginia while playing in the immense vegetable gardens and home beauty parlor while welcoming home Poppi Martin each day from the coal mines. She took a train each summer to Boonton via Washington, DC by herself (with the help from a conductor) most summers of her childhood. She adored being with her Beradino and Dandrea Family. She had fond memories of being with Bena, Theresa, Ginny, Joe and many others staying connected to her hometown of Boonton, NJ.
When she was 12, her mother remarried and she moved to Cleveland, Ohio. She grooved on Motown and attended Elvis Presley concerts while attending a large urban High School and being a regular visitor of the Cleveland Art Museum. She developed her fierce streak of independence with her best friend Karen Brokaw Heidemann during these high school years and a love and respect for black culture in America in the late 1950s.
She married Charles Kelly in 1962 and they raised three daughters, Mary Ann, Karen and Shannon in Boonton. She LOVED the fun-loving Kelly Clan and embraced being part of a big family. She was a beloved babysitter for many years before she re-entered the workforce. She spent endless hours of joy with her best friends Mary Jo Amari and Sandy Reynolds while raising her three girls.
She was a devoted member of the Ladies Auxiliary of the Boonton Fire Department, marching in parades and public service projects. She enthusiastically participated in the opening and fundraising for the Burn Victim Center in East Orange, New Jersey. For many years she and "The Sassy 7" enjoyed friendship and laughs.
In 1979, Anna Marie with her husband Chuck relocated their family to Frankfurt, West Germany. She secured a position in administration at Martin Marietta and later was the Assistant to the Principal at the US DOD schools at Rhine Main Air Force Base at great benefit to her family. She worked with her cousin Felecia "Cricket" Blevins who was also stationed there with her husband. This move to Germany had a lasting impact on the Kelly family soaking up European culture and developing a love for adventure and travel to 9 countries!
Anna Marie and family moved back to their family home in Boonton in 1984. She catapulted back into the workforce as a buyer at Channel Lumber and was extremely successful. She used her past work experience and was the Assistant to the Principal at St. Virgil's School in Morris Plains. A couple years later she and her husband purchased Speedwell Wine and Liquor as she juggled her school job and being a business owner. They operated the store and built a diverse community of employees and friends in Morristown, New Jersey. After retiring, she cherished having more time with her grandchildren, Joseph and Mya.
When she moved to Florida she was close to her daughter, Shannon, and new granddaughter, Lily, and also was able to visit with her niece Dawn Marie Kelly and Cricket and her family. She made lifelong new friends at "DayMac", a neighborhood in Brooksville, Florida where there were celebrations almost every week throughout. Like Boonton, her friends dropped by for coffee most days for warm conversations, advice and laughs on her porch.
In mom's sunset years, Anna Marie enjoyed regular sporting events at Boonton High School, lunches with best friends and cousins and time with her girls at Boonton Senior Housing, Spring Hill Assisted Living and Boonton Care Center/Fallsview Nursing Home. All her life she was a self-taught artist, and everyone cherishes her paintings, creative décor, unique crafts and thoughtful party favors and gifts. She loved her crafts, collecting greeting cards and parties all along the way with her friends and family.
No matter where Anna Marie was in this world, she always brightened the room. She was known for her spirit of Christmas all year round with plenty of confetti, sequins and glitter for everyone she encountered. She will be missed but her spirit continues to sparkle on and will never be forgotten.
Anna Marie is survived by her daughters, Mary Ann "Mar" Kelly (Clara Kim); Karen Russo (Joe Russo); Shannon DiMurro (Joe DiMurro); her Great Aunt Virginia "DeeDee" Blevins and her beloved grandchildren, Joseph Brennan Russo, Mya Maria Russo and Lily DiMurro.
The arrangements to honor and celebrate Anna Marie's Life are the following:
Memorial Wake on Friday night, February 24, 2023 from 4 pm to 8pm at Dangler- Lewis and Carey Funeral Home, 312 West Main St in Boonton, NJ. In lieu of flowers, the family suggests donations to a local organization, Loaves and Fishes Community Food Pantry (lfcfp.org) because Anna Marie embodied this passage: "For I was hungry and you gave me food, I was thirsty and you gave me something to drink, I was a stranger and you welcomed me…" -MATTHEW 25:35
The Funeral Mass will be held at Our Lady of Mount Carmel Church at 11:00 am on Saturday, Feb. 25, 2023.
Immediately afterward, her remains will be buried at St. Mary's Cemetery with a gravesite ceremony.


Share Your Memory of
Anna Marie