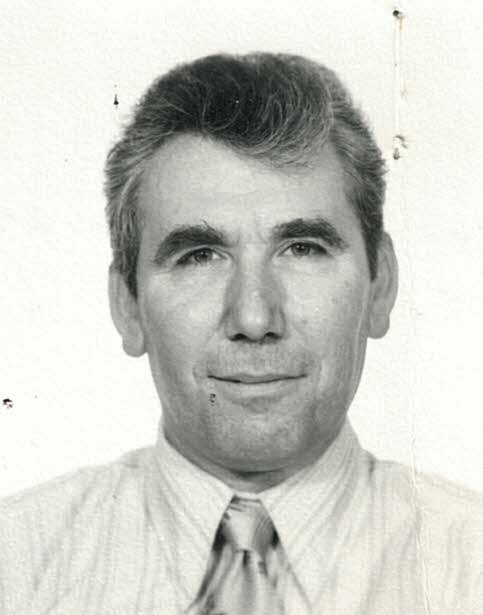 Visitation
4:00 pm - 7:00 pm
Tuesday, May 17, 2022
Dangler Lewis & Carey Funeral Home
312 W Main Street
Boonton, New Jersey, United States
(973) 334-0842
Graveside Service
10:00 am - 11:00 am
Wednesday, May 18, 2022
Gate Of Heaven Cemetery
Ridgedale Avenue
East Hanover, New Jersey, United States
Interment
10:00 am - 11:00 am
Wednesday, May 18, 2022
Gate Of Heaven Cemetery
225 Ridgedale Avenue, <no data>
East Hanover, New Jersey, United States


Obituary of Frank Petrus
Please share a memory of Frank to include in a keepsake book for family and friends.
Frank Petrus, age 88, died peacefully in his home in Boonton Township on May 14, 2022. Born on July 18, 1933, in Balatonszemes, Hungary, he was the son of Ferenc Petrus and Ilona Kovacs. His father owned a tavern, and his mother raised him and his five siblings in Balatonszemes, on the southern shore of Lake Balaton, part of the Balatonboglár wine region. He developed a lifelong love for wine from growing up in this village, surrounded by vineyards. As an adult, he often gave bottles of Egri Bikavér (Bull's Blood) red wine to friends as gifts. He also enjoyed swimming in Lake Balaton, just a few minutes away from his home.
It was a difficult childhood. The family faced hardship during World War II but persevered. After the war, at the age of 14, Frank learned skills to become a machinist. At the age of 20, in 1953, he was drafted by the Hungarian military during the Soviet communist era. He served in the army until 1955, making it to the rank of corporal. He had fond memories of his time with fellow soldiers, though he opposed the communist regime. Following his service, he got a job as a machinist in Budapest at Siemens, a German industrial manufacturing company.
On October 23, 1956, when the Hungarian Uprising began against Soviet rule, he was living in Budapest, the focal point of the rebellion. He joined the fight against Russian soldiers and armed himself with a rifle, though he never fired a shot. For a moment, on October 30, it seemed that the Revolution would be successful, as Hungary left the Warsaw Pact, and Soviet forces withdrew from Budapest. Days later Soviet leadership sent reinforcements to suppress the rebellion. The crackdown was violent and bloody. Frank and his younger brother George decided to flee the country when the borders were opened, escaping to Austria in dramatic fashion. They literally ran from a hail of gunfire by guards positioned at the border to block the rebels.
At the refugee camp in Salzburg, Frank and George decided to apply for residency in the United States. The vetting process was swift and straightforward. They successfully completed the application, detailing their occupational skills, rejecting communist political ideology, and passing a physical examination. By December, they had arrived in Camp Kilmer, New Jersey, eager to start the next chapter of their lives. It wasn't long before Frank got a break. A representative from Champlain, a manufacturing company based in Roseland, interviewed him at the camp and hired him on the spot.
Frank's greatest quality was his work ethic. Eager to prove himself to his employer and stand out among other workers, Frank toiled incessantly. While he flourished at Champlain, he struggled to learn English, picking up words and phrases from watching the television cartoon "Popeye" and the comedy act "The Three Stooges." For fun, he and his brother went bowling, watched soccer, and socialized with other Hungarian refugees, many of whom lived and worked in northern New Jersey. The other major turning point in his life happened in December 1959, when he met his beloved Magdalena Pinter, another Hungarian refugee. He courted Magdi, and the two fell in love and got married on June 18, 1960, in Newark. They welcomed their first son, Frank, Jr., on March 30, 1961, around the time they bought a house in Parsippany.
In 1963, the couple moved to a bigger new house next door, where Frank started his own business in his basement at night, as he worked during the day at Nash Control, a manufacturing company in Fairfield. The family expanded in the remainder of the decade. Their second son, Peter, was born on December 21, 1963; on February 9, 1966, they welcomed their third son, James. All the while Frank continued to distinguish himself as a machinist working almost around the clock. He focused on producing aircraft parts for Air Cruisers, among other companies. He also was contracted to manufacture material for NASA, contributing to the space program during the Apollo missions to the moon.
Frank prospered in the 1970s at work and at home. In 1970, he purchased a building in Fairfield and converted it into a machine shop, expanding it in 1974 and naming it Warren Manufacturing, Inc. In 1978, he bought a machine shop in Pine Brook. On August 10, 1973, Frank and Magdi had their fourth son, Stephen. Frank recalled that he quit smoking the day Stephen was born, so that he could take care of his family in good health. In the early 1970s, the family bought their first recreational home on the Jersey Shore, in Barnegat Township in Ocean County. The Petruses would own several different homes in Ocean County for four decades and spend their weekends there each year from the spring to the fall. Frank and his three older sons particularly enjoyed boating and fishing. The family also went swimming in the Atlantic Ocean and strolled the Seaside Heights boardwalk, playing games and eating pizza and ice cream. On October 22, 2012, Superstorm Sandy severely damaged their last home in Brick Township. They would no longer own another house on the Jersey Shore.
In 1983, the family moved from Parsippany to Boonton Township, building a large home on two acres of property. Frank trained his three older sons to work with him at the machine shop. He was demanding and strict and instilled in them a strong work ethic and a pride in manufacturing. Frank, Jr., Peter, and James continued to work as machinists while Stephen earned a Ph.D. in history from the CUNY Graduate Center in New York City and became a historian. In the 2000s, Frank and Magdi were delighted to welcome two grandchildren into the family, Christopher, born in 2003, and Sophia, born in 2005, both to James. Tragedy also struck the Petrus family on September 4, 2005, when Frank Jr. died at the age of 44. Frank worked well into his early 80s, never really contemplating retirement. The last years of his life were brightened by the addition of his third grandchild, Ramona, born in 2019, to Stephen and his fiancée Jennifer Weiss.
Frank's life was remarkable and rich. He influenced the lives of many. His greatest passion was playing the violin. From an early age, Frank learned the instrument and developed a special appreciation for Hungarian folk music. He also collected violins and in his leisure repaired them. On Thursday nights after work, Frank and his friends in his band would gather at the machine shop to play and sing Hungarian songs. Often on summer weekends, Frank and Magdi met with friends from their Hungarian Social Club to socialize, play music, sing, and enjoy Hungarian food and wine. He was never happier than when he played the violin.
Frank is survived by his dear wife Magdi of 61 years, his three sons Peter, James, and Stephen, and three grandchildren Christopher, Sophia, and Ramona. He is also survived by his sister Elizabeth, in Hungary, and his brother George, in Nevada. A wake will be held for him on Tuesday, May 17, from 4:00pm to 7:00pm at Dangler Lewis and Carey Funeral Home in Boonton. Funeral services will take place at Gate of Heaven Cemetery in East Hanover on Wednesday, May 18, at 10:00am.
In lieu of flowers, the family asks that donations be made to the Garfield American Hungarian Citizens League. Checks should be made out to AHCL and mailed to:
Garfield American Hungarian Citizens League
21 New Schley Street
Garfield, NJ 07026


Share Your Memory of
Frank