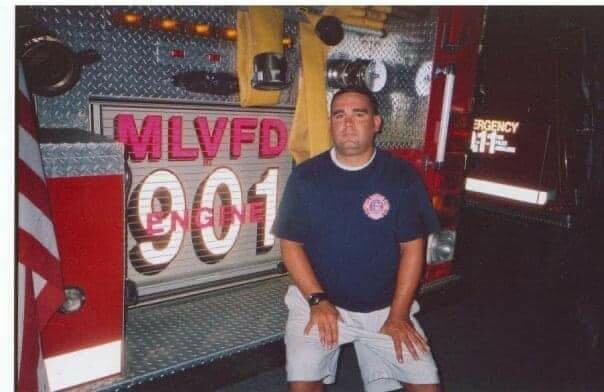 Visitation
4:00 pm - 8:00 pm
Friday, March 11, 2022
Dangler Lewis & Carey Funeral Home
312 W Main Street
Boonton, New Jersey, United States
(973) 334-0842

Get Directions
Funeral Service
7:30 pm
Friday, March 11, 2022
Dangler Lewis & Carey Funeral Home
312 W Main Street
Boonton, New Jersey, United States
(973) 334-0842

Get Directions


Obituary of Charles Royce Hester
Please share a memory of Charles to include in a keepsake book for family and friends.
The Obituary for Charles Royce Hester
June 19, 1971 – March 3, 2022
The attributes of a hero and heroism are often romanticized in movies, novels, and more recently mainstream media. The definitions provided are as unique as the individual whom of which is being hailed a hero. For the Hester family, our hero came in the form of a Jersey native who was perfectly comfortable wearing a hoodie and gym shorts in fifteen-degree weather with twelve feet of snow on the ground. He was a people person who made great strides to be friend whomever he came in contact with. His affectionate character and charisma will be forever missed.
Charles Royce Hester passed away on the 3rd of March, year 2022 at the age of 50. In 2017, while working the fire ground, Charlie was pushing up a flight of stairs. As he was cresting the flight of stairs, along with another fireman, the stairs gave way and he fell through. He suffered a leg injury. Despite the greatest efforts of attending physicians, mid-level providers, and nurses, he developed illness secondary to leg infection. Invariably, he passed away from this illness.
To his family and friends, he was known as Goober, Chuck, and Chuckles. More often, he went by the name of Charlie. Charles Royce Hester was a man who was forged by the crucible of firefighting. It was his life. One could look in his wardrobe at any given time and see his nicest most dressy shirts were "Class A" uniforms. If by chance you saw him not wearing a t-shirt, adorned with some fire department, he was most likely not dressed at all. In which you would have seen the Maltese Cross on his arm. Whether one is a career, paid-on-call, or a volunteer, being a fire fighter is a lifestyle. Charlie lived that lifestyle to the fullest.
Loved by all who got to meet him, Chuck had the ability to light up a room with his often-twisted sense of humor. If you were by chance having a poor day, he would be the first to reach out you and offer kind words or simply spark a conversation – often about firefighting. He was often described as the tough guy. He was the tough guy, until you put some furry, cuddly animal next to him.
The number "45" to the Hester family will forever be synonymous to a world-class athlete who had a knack for football and lacrosse. Charlie excelled as a goalie in Lacrosse. Undoubtably, he loved playing the position. His affectionate personality shined during his time with the Herd and became quite the socialite. Chuck loved being around people and maintained a very active social life during and after high school.
Chuckie was the guy who had articles of clothing by the millions, but rarely ever went clothes shopping. His wardrobe consisted of given and bartered t-shirts, decorated with some fire department. If fact, it seemed he only got excited about clothes shopping if Wal-Mart had a 2-for-1 deal on gym shorts. Charlie made a fashion statement with t-shirts of various assorted colors, many of which were brighter and louder than the Boonton air raid siren. You want to see a cathedral for tennis shoes? Look in Charlie's closet, it's larger than St. Catherine's. It's safe to say that tennis shoes, particularly, Nike, was a close second in life passions.
During Charlie's time, he had the distinct honor of fathering two daughters, Julia and Avery. He loved his daughters as they enriched his life with so many memories and a level of love only fathers and daughters can share.
His infectious personality will forever be a part of our memories of Charlie. Goober's charisma and character are some of the many reasons why we all mourn his loss. Chuckles would not want us to mourn, that just isn't in his nature. He would much rather have us celebrate a life well lived. He would want his memory to be positive and inspiring. In his honor, please let's continue in joining together and celebrate the life of Charles Royce Hester
Charles Royce Hester is preceded in death by his mother, Patricia Macauley. He is survived by his father Jonathan, sisters, Christina, Jennifer and husband Terrence, Michelle, Alisse, brothers, Ryan and Arron and fiancé Rianna, daughters Julia and Avary, and 16 nieces and nephews.
Visitation will be held on Friday, March 11, 2022, from 4-8 PM at the Dangler Lewis and Carey Funeral Home, 312 West Main Street, Boonton, NJ 07005, with a Funeral Service at 7:30 PM.
In lieu of monetary or floral donations, please give any donation to the
New Jersey Fireman's Home
565 Lathrop Ave
Boonton, NJ 07005


Share Your Memory of
Charles