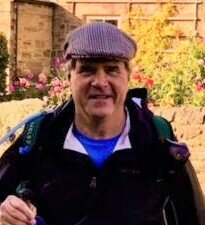 Visitation
3:00 pm - 7:00 pm
Tuesday, November 23, 2021
Dangler Lewis & Carey, Directors of Funerals
312 West Main St
Boonton, New Jersey, United States
(973) 334-0842

Get Directions
Funeral Service
6:00 pm - 7:00 pm
Tuesday, November 23, 2021
Dangler Lewis & Carey, Directors of Funerals
312 West Main St
Boonton, New Jersey, United States
(973) 334-0842

Get Directions


Obituary of Edwin Hellawell Collins
Please share a memory of Edwin to include in a keepsake book for family and friends.
EDWIN HELLAWELL COLLINS
Edwin Hellawell Collins died suddenly at home in Boonton, New Jersey on November 16, 2021. The cause of death was a heart attack, which struck him as he was sitting down to dinner with his wife Anne Blackwell-Collins. He was 62 years old.
Ed leaves behind a legacy of kindness, intrepid professionalism, intellectual curiosity, robust adventure and determined individualism. Anyone who knew him will tell you he was his own man – especially his wife.
He was born on March 26, 1959 in Garden City, Long Island, NY to Eileen (Hellawell) and Louis Collins. The youngest of three children, Edwin (named for his maternal grandfather) benefited – and took the knocks – for being the baby in the family. His elder sister, Monica (by eight years) treated him as her personal servant and his elder brother, L. Andrew (by six years), teased him unmercifully. Still, they loved him beyond measure and Edwin grew up happily in the country after the family moved to Katonah, New York in 1962. His cherished companion in those early years was a black Labrador dog named Sooty.
Graduating from John Jay High School in Cross River, New York in 1977, Ed went on to Drew University in Madison, N.J. where he graduated in 1981. However, he never graduated from New Jersey. The state became his home for the rest of his life.
After college, he briefly taught at the Delbarton School in Morristown, N.J. He enjoyed teaching but he entered the insurance industry after leaving Delbarton. He would go on to have a long career in insurance, working at such firms as Chubb, Great American, Fireman's Fund, Coverx, Berkley and Crum & Forster. When he died, he was working for AltaRisk, an underwriting insurer of specialty products. Ed, however, rarely took his work home from the office. He enjoyed hearty pursuits outside of his profession.
Before entering his senior year in college, Ed announced he was going to bicycle by himself across the United States. He had been training for this venture by cycling all over eastern Long Island from the Montauk home of his parents. Also, he was no stranger to the perils of sharing the road as he routinely bicycled seven miles home after midnight from Gosman's Dock Restaurant where he worked as a dishwasher.
While his parents resisted the plan, they eventually conceded and Ed was off. The journey started in Portland, OR and ended on Beacon Hill in Boston when he pedaled up to his sister's apartment greeted by cheers from his family. This successful trip was just the start of many more life adventures.
Edwin met Anne Blackwell, a Glaswegian working as a nanny in Mountain Lakes, N.J., while playing squash at a local club. The two embarked on a life journey. They married on Christmas Eve in 1993 at Gretna Green, Scotland and shared a home in Boonton, N.J. The also shared a love of running, journaling, cats, reading, and traveling the world from Germany to Argentina. They walked the length of Hadrian's Wall in England; they ran the New York City and Berlin Marathons. Their last trip was to Yosemite National Park in the spring of '21. In addition to the big jaunts, there were the side trips – numerous hiking expeditions along the Hudson River and other local wilds. The final outing posted on Facebook showed them at Grounds for Sculpture in Hamilton, N.J. They were cheeriest when exploring in Anne's home country of Scotland -- from Oban to the Isle of Skye and many other nooks and crannies of the countryside.
Edwin leaves behind his Scottish family, the MacDougalls, including Ruth (Blackwell) and Bert and their children Neil (Mina), Colin, Heather Andrews (Frankie) and Gordon (Edith) as well as many cousins. Edwin's American family includes sister Monica (Ben Alper), brother Louis Andrew (Leslie) as well as nephews Kyle Andrew (Emily) and Patrick Daman. Uncle Ed provided much inspiration and guidance to the nephews over the years.
He also leaves a clan of co-workers, neighbors and friends who knew his kindness and bonhomie. Edwin loved nothing more than a good book, a good beer and a good laugh.
Donations in Edwin's memory can be made to NorthStar Pet Rescue, www.northstarpets.org
Visitng will be held on Tuesday, November 23, 2021 from 3:00 to 7:00 PM with the Funeral Services at
7:00PM.


Share Your Memory of
Edwin