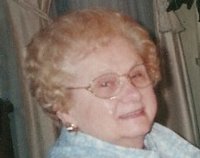 Margaret Popovich Guiton
Margaret Popovich Guiton passed away peacefully on February 12, 2018. Born January 28, 1922 to John and Bertha Popovich, Margaret was a lifelong resident of Boonton. After graduating from Boonton High School, Margaret was employed by Curtis Wright in New York City until she married Edward W. Guiton in 1945 and raised three daughters. Margaret
returned to work in 1960 as a bookkeeper for Tredway Trucking and then for the Mountain Lakes Board of Education, from which she retired in 1989 after 26 years of service. Early in her retirement, Margaret first volunteered and was subsequently employed as bookkeeper for Morris Catholic High School until 1992. Despite her busy schedule raising her children and working full time, Margaret found the time to become an expert in knitting, as well as a gifted seamstress, creating several wardrobes and many special occasion garments for her daughters. Many family members and friends were the lucky recipients of her beautiful sweaters and afghans. Margaret was a life-long member of Our Lady of Mount Carmel Church in Boonton and the Catholic Daughters.
Predeceasing Margaret was her husband, Edward in 1967, her oldest daughter, Sister Margaretann SCC (Patricia) in 2012, as well as her sisters, Mildred, Lillian, Helen and Marion, and her brother, Henry. She is survived by her daughters Margaret G. Whitson of Hardyston and Sheila Guiton of Boonton, her granddaughter, Brenna J. Whitson of Allentown, PA, and many nieces and nephews, all of whom will miss her dearly.
Visitation will be held on Friday, February 16, 2018, from 4-8 PM, at the Dangler, Lewis and Carey Funeral Home, 312 W. Main Street, Boonton, NJ 07005. A Funeral Mass will be celebrated on Saturday, February 17, 2018 at 12:30 PM at Our Lady of Mt. Carmel Church, 910 Birch Street, Boonton, NJ 07005. Interment will follow immediately at St. Mary's Cemetery in Boonton.