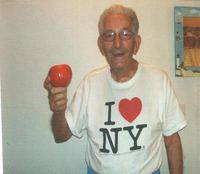 Victor Louis "Lou" Stivaly
Victor Louis "Lou" Stivaly, Sr., 88, of Toms River
Victor Louis "Lou" Stivaly, Sr., 88, of Toms River passed away on December 18, 2017, at Morris Hills Rehab Center in Morristown. Lou was born and raised in Montclair, NJ. He lived in Bloomfield, Lake Hiawatha and later in Parsippany where he and his wife Beverly raised their family. Lou later retired to Toms River and they were also "snow birds" in Bonita Springs, Florida.
Lou retired from the Township of Parsippany, where he worked as the Zoning Officer. Prior to that, Lou worked at Tuscan Dairy, on a commercial milk route. In 1980, Lou became a Worshipful Master Mason with Kane Lodge in East Hanover, and subsequently joined the Point Pleasant Lodge. He was also a member of the Brick Elks Lodge. Lou loved the camping life and was a 50 year member of the Family Motor Coach Association, where he also served as FMCA Past Chapter President. Lou was an avid fisherman and hunter, with many accommendations to his list of accomplishments throughout his life.
Lou is survived by his beloved wife Beverly "nee Fallat" Stivaly; his loving children Karen Lifshin and her husband Marc, Victor Louis Stivaly, Jr. and his wife Holly, Diane Fay and her husband Charles and Stephen Stivaly and his wife Judy; his caring sister Ida Cosimo. Lou also leaves behind to cherish his memory, 5 grandchildren, 5 great grandchildren and many nieces and nephews. Lou was predeceased by his siblings Dominic, Ann Petrucci and William.
Visitation will take place on Thursday December 21, 2017 at Dangler, Lewis and Carey Funeral Home, 312 West Main Street, Boonton, NJ 07005, from 1:30-4:00 PM, with a service to begin at 3:30 PM. Interment will be private. In lieu of flowers, the family kindly requests donations be made in Lou's memory to the American Cancer Society, Eastern Division, 7 Ridgedale Avenue, Suite 103, Cedar Knolls, NJ 07927, or the American Heart Association, 1 Union Street, Suite 301, Robbinsville, NJ 08691-4183.